Chiropractic Care
Chiropractic adjustments are the foundation of treatment and health for many patients. This involves applying a gentle force to specific segments of the spine with the goal of restoring proper joint motion. This takes stress off of nerves, bones and cartilage, and improves tissue and nervous system health!
At Evolve, we provide both hands-on (Diversified Technique) as well as instrument-assisted (Activator Methods) adjusting techniques to benefit a wide range of patients.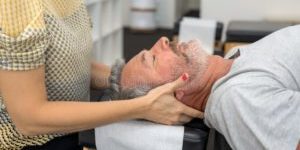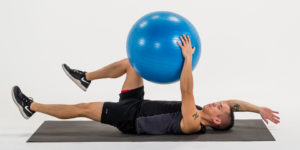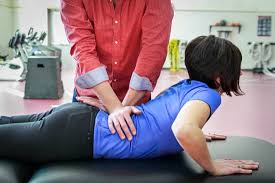 A common misconception about chiropractic care is that all we do is perform spinal adjustments. While adjustments are typically the foundation of our patient care, if the muscular and movement aspects of the patient are not addressed, then we are unlikely to achieve optimal results. That is why at Evolve Chiropractic, we make sure to assess each individual's mobility, stability, movement quality in order to reduce his or her chance of injury.
We also provide rehabilitative exercises so patients can come back from injury stronger and more resilient than before, as well as prehab exercises in order to reduce injury risk in the first place.
Dr. Caitlynn and Dr. Tom are also both certified in the McKenzie Method, which provides patients a non-adjusting method to improve disc issues, joint mobility, and reduce their pain.
Concussion Management
Evolve Chiropractic is committed to protecting the health and safety of our patients and athletes. Although we strive to prevent concussions, the reality is concussions can happen. As a result, we have partnered with Complete Concussion Management Inc. (CCMI), a Canadian-based, international research and concussion care organization. From initial pre-season baseline testing to concussion treatment and rehabilitation, CCMI practitioners are trained to collaborate with primary care physicians to co-manage concussions and ensure athletes safely Return to Learn, Work and Play.

What is a concussion?
A concussion is a brain injury caused by acceleration or deceleration of the brain following a significant impact to the head or elsewhere on the body. The impact causes biochemical imbalances within brain cells, resulting in decreased blood flow and temporary energy deficits. Symptoms may include loss of consciousness, headache, pressure in the head, neck pain, nausea or vomiting, dizziness, or balance problems, among others.
Multimodal Baseline Testing
Multimodal baseline testing is a series of physical and cognitive tests that provide a pre-injury overview of healthy brain function. These tests can offer healthcare practitioners an objective benchmark on which to compare should an athlete sustain a concussion.
As concussion symptoms often disappear days to weeks before the brain has recovered, having valuable baseline information may help healthcare practitioners to make safer return to play decisions.
As part of our partnership with CCMI, Evolve Chiropractic encourages baseline testing for our athletes. For more information about baseline testing click here.
Concussion Treatment
During the early stage following injury, a period of relative symptom limited physical and cognitive rest is recommended. Research suggests 24 to 48 hours; however, these decisions are made on a case-by-case basis.
Following a short period of rest, the International Consensus Statement on Concussion in Sport recommends a gradual increase in mental and physical activity guided by a licensed healthcare practitioner trained in concussion management. If symptoms persist beyond 10 days, exercise therapy, manual therapy of the neck, diet and nutrition changes, and vestibular and visual rehabilitation can be effective treatment options in these cases.
Return to Learn, Work and Play
Standardized concussion treatment and Return to Learn, Work, and Play strategies ensure adequate recovery time, and thereby limiting the risk of further injury.
We recommend a 10-step process which includes a phased return to cognitive and then physical activity: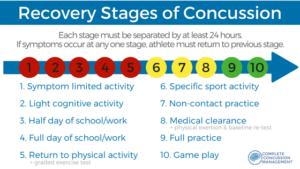 Concussion Quick Facts
⦁ Helmets and mouth guards do not protect or reduce the risk of concussion
⦁ 90% of concussions do not result in loss of consciousness
⦁ MRI and other diagnostic scans show structural damage in the brain, and do not identify energy deficits caused by concussion
⦁ Symptoms of concussion typically go away in 7 – 10 days; however, the actual recovery of the brain can take much longer
For more information, call Evolve Chiropractic to speak to Dr. Tom or Dr. Caitlynn at 306-682-8282, or email us at info@evolvechiropractic.ca.